Neurosurgeon in Aurangabad
Dunakhe Hospital Pvt. Ltd. has been providing best healthcare services in the Marathwada region for many years. With progression of time, we have been upgrading ourselves to provide better and advanced healthcare to our patrons [patients]. Moving in this direction we have established well-equipped Critical Care Unit for all types of critically ill patients.
We have a spacious Pathology department to carry out all investigations required for diagnosis and treatment. Radiology department have facilities like portable X-ray machine, USG machine, color Doppler studies & CT scan. We have In-house facility of Pharmacy for convenience of the patients and relatives. We have Tie up with Blood Banks, MRI centers for better & quick services. We have provision of Elevator, Fire Alarm System, Spacious stair case, CCTV facility, Solar Water Heating System, with Generator backup, spacious parking & Canteen. We also have ambulance facility to bring patient from any location.
ICU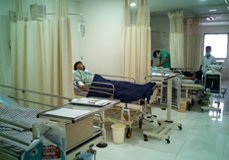 We have 12 bedded well equipped ICU with facilities of Ventilator, Multipara monitors for continuous monitoring of critically ill patients, Pulse Oxymeters, Central Oxygen and Suction facilities, Ventilators, Infusion and Syringe pumps, Defibrillators with portable x ray machine with a team of qualified and experienced Doctors with paramedical staff round the clock.
Modular Operation Theater
Hospital has first modular operation theater in this region and Advanced Operation Theaters with more than 1100 Sq. Ft. which include major OT 425 Sq. Ft. and labor room 300 Sq. Ft. OT premises is fully equipped with all basic and AHU advanced facilities for minimally invasive trauma surgery with latest digital 9"||TV Siemens C-Arm, Laparoscopic [Maxer Pilsar] Kits, Anesthesia workstation, Multipara monitor, Defibrillators, Infusion and Syringe pumps etc.
OT table is Hydraulic with all Ortho and Neuro Attachments. Horizontal as well as Vertical autoclave facilities are available for sterilization purpose.
We have 02 Operation Theaters wise, major & minor. We have Hydraulic table with all Ortho and Neuro Attachments, LED OT lights of world class Mackie & Philips, 9 inches High Frequency Allengers C-Arm, 2 Boyles Apparatus, Operating Microscope, Multipara monitors, Defibrillators, Syringe pumps, Infusion pumps etc. We have Carl Zeiss Microscope of S88 system. The best for micro neurosurgeries and micro vascular surgeries. Routinely we performs minor to supra major surgeries. We deal in Minimal Invasive Surgeries / Laparoscopic surgeries etc.